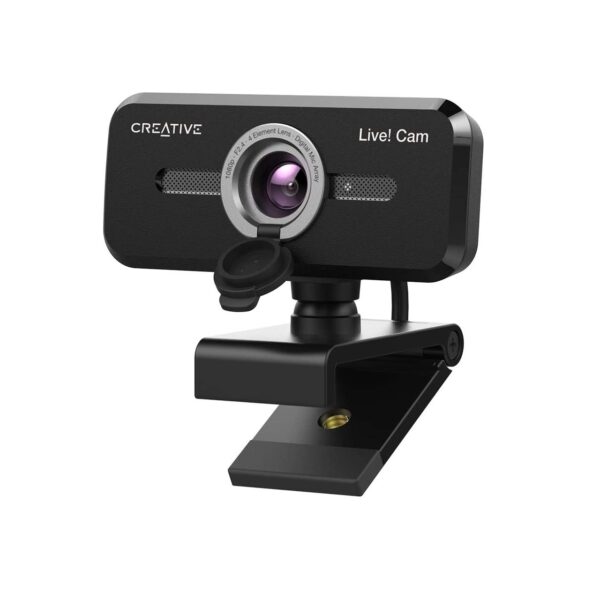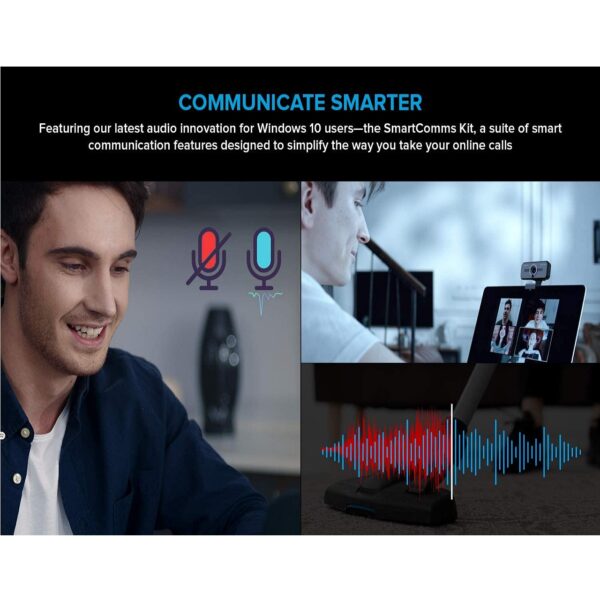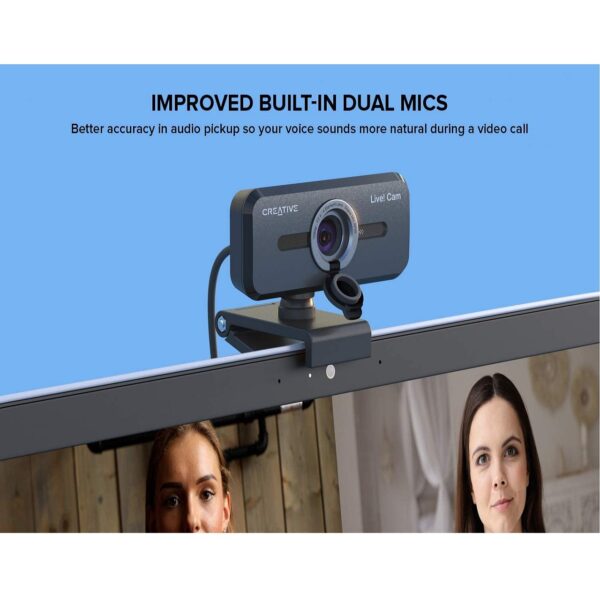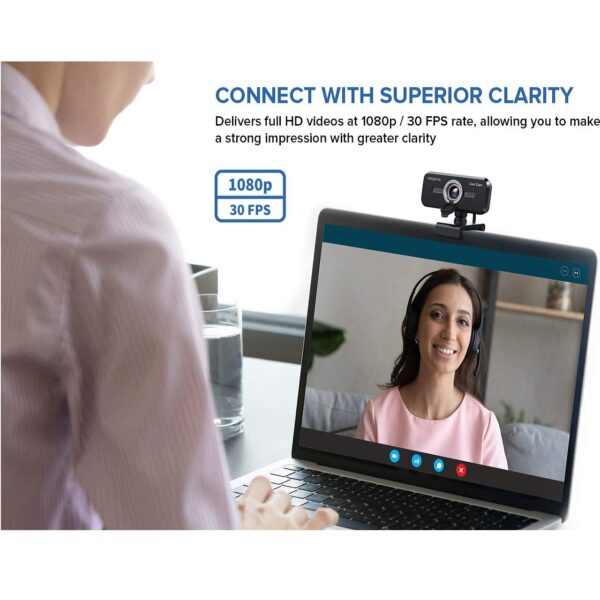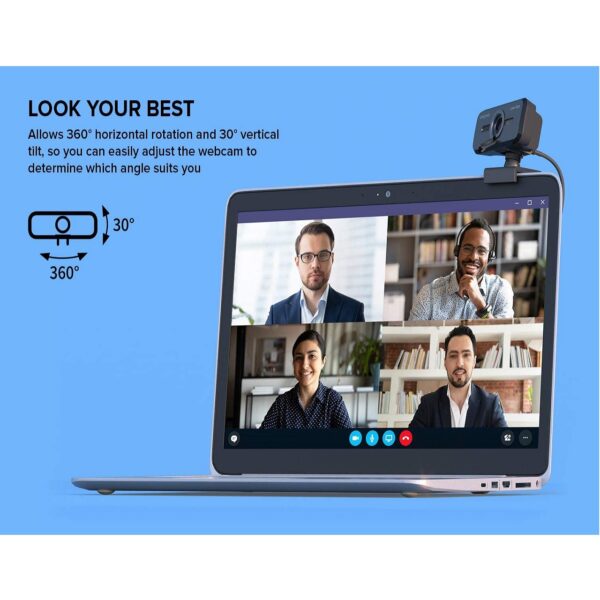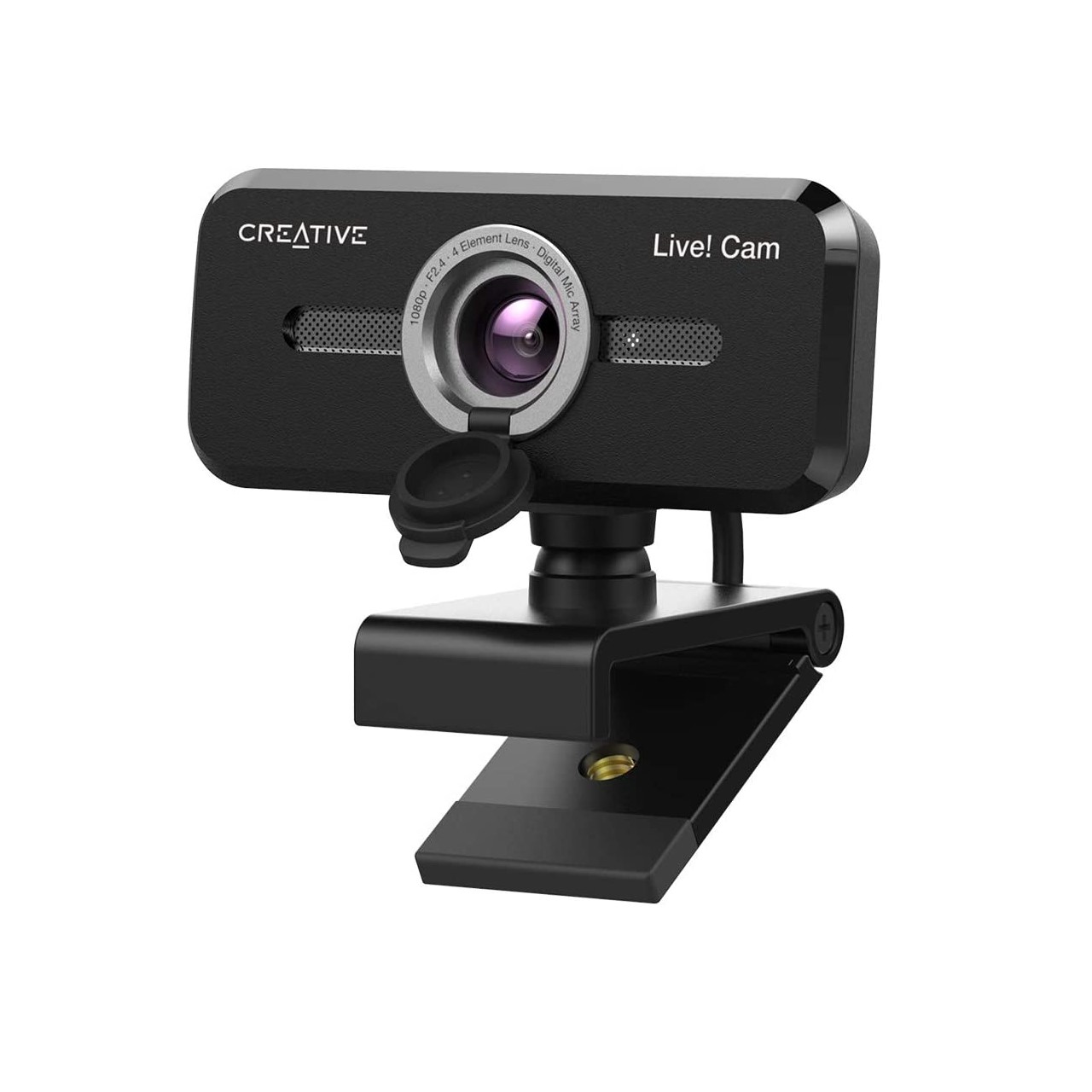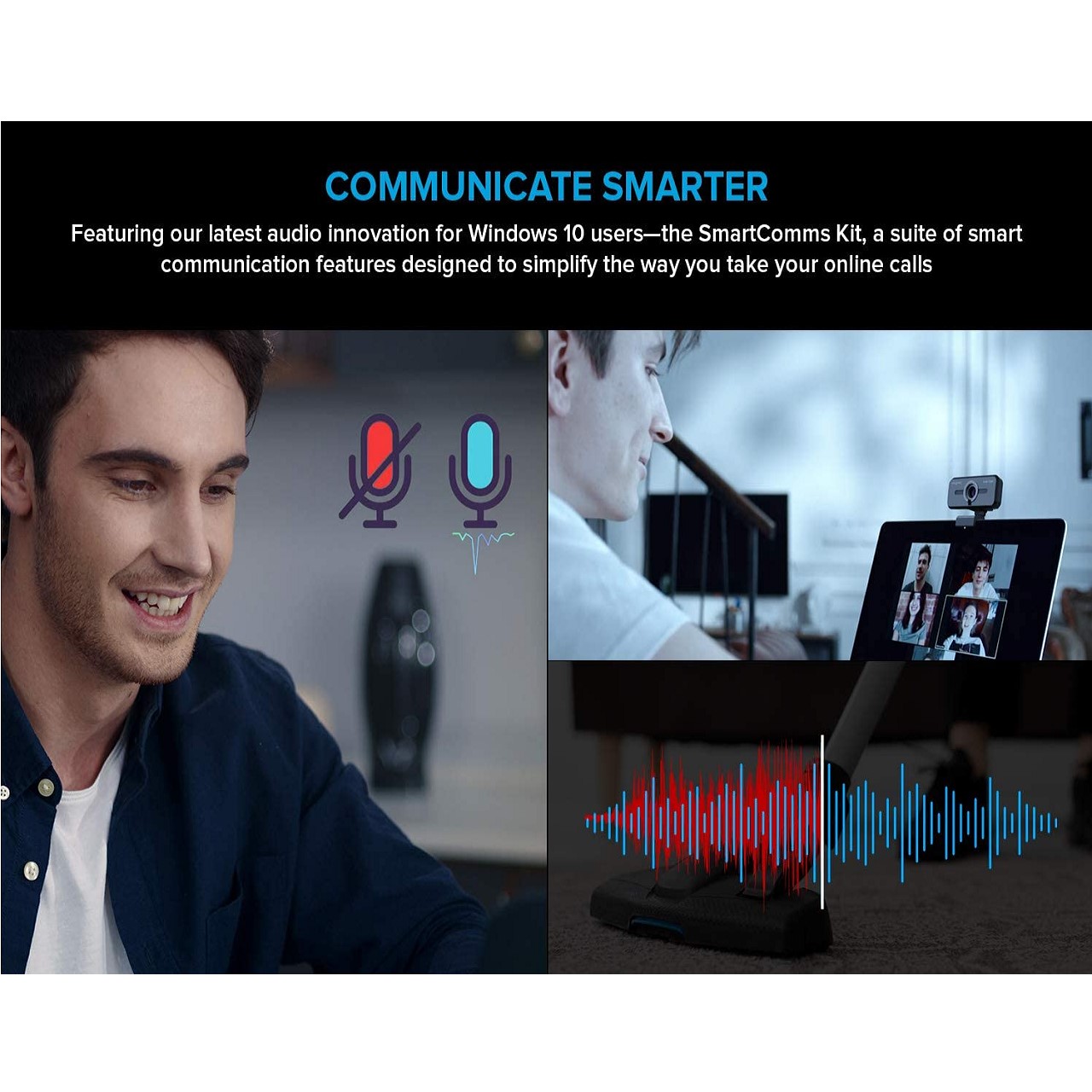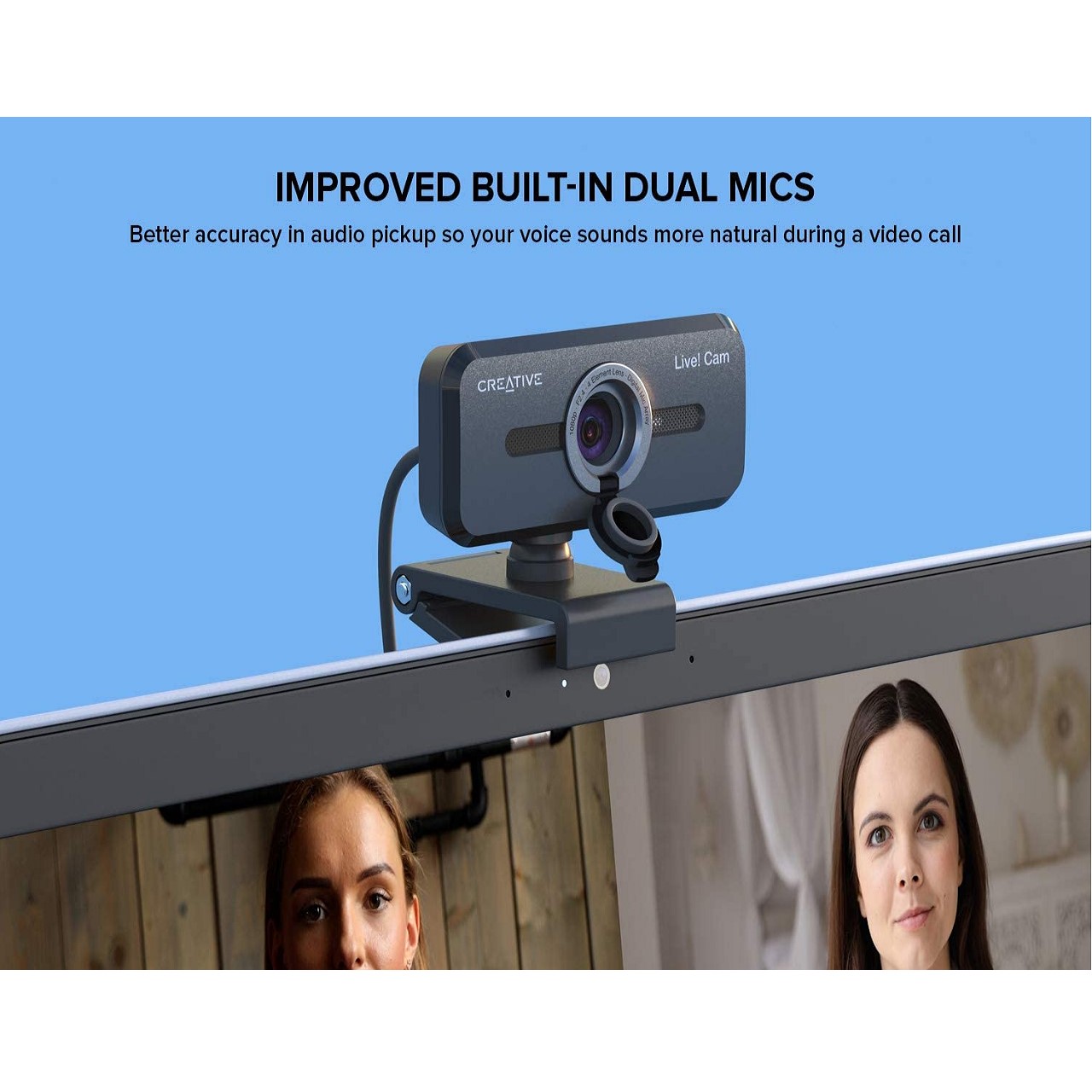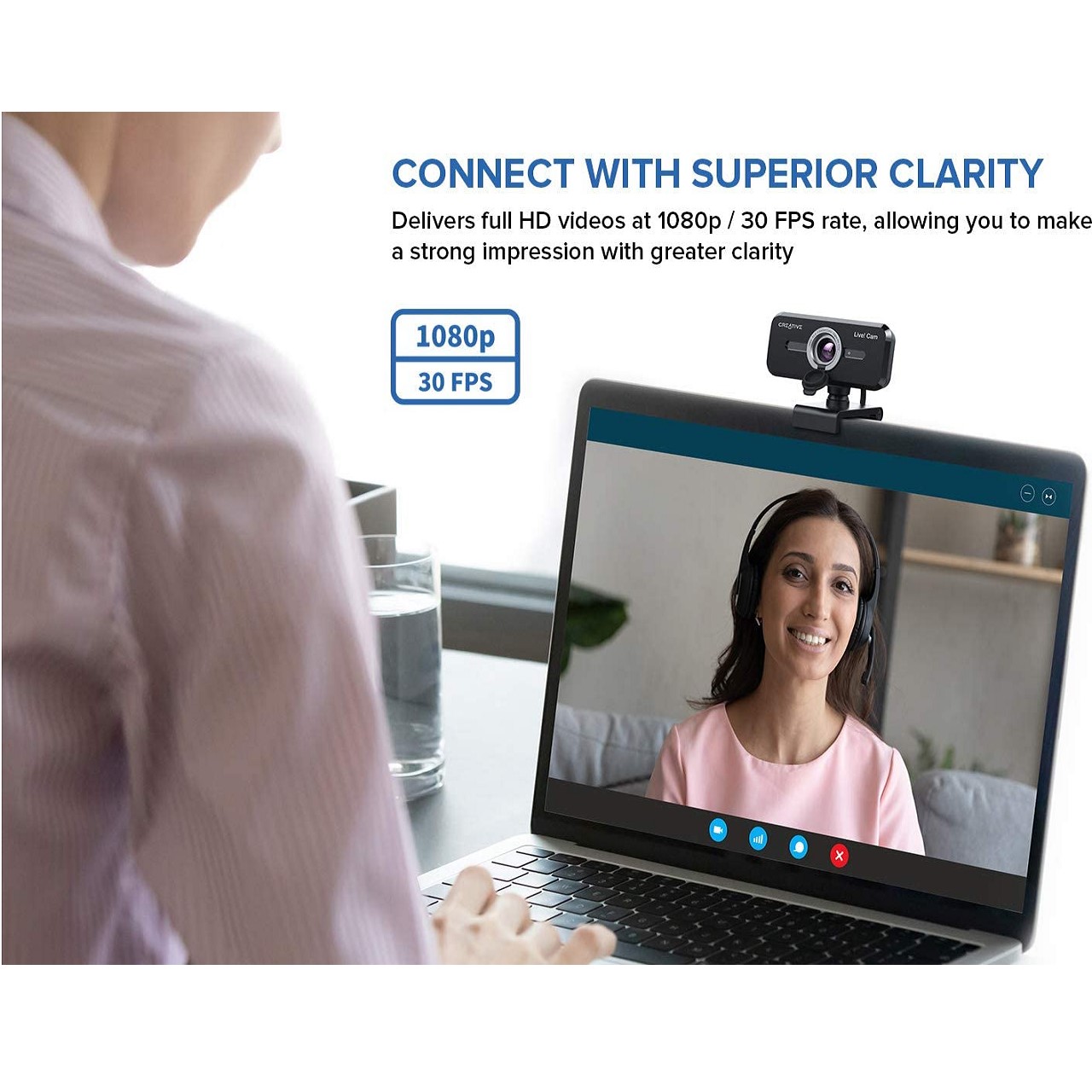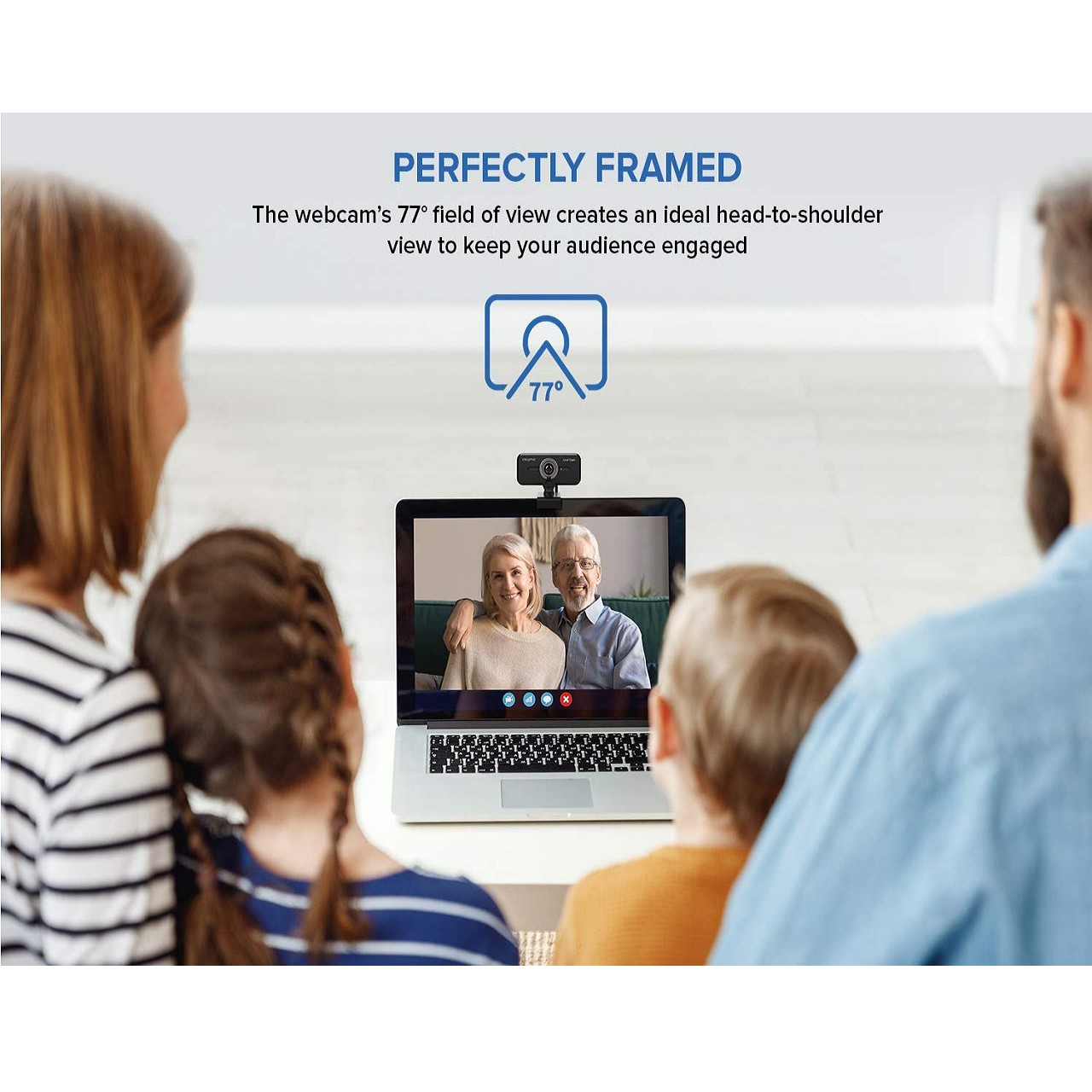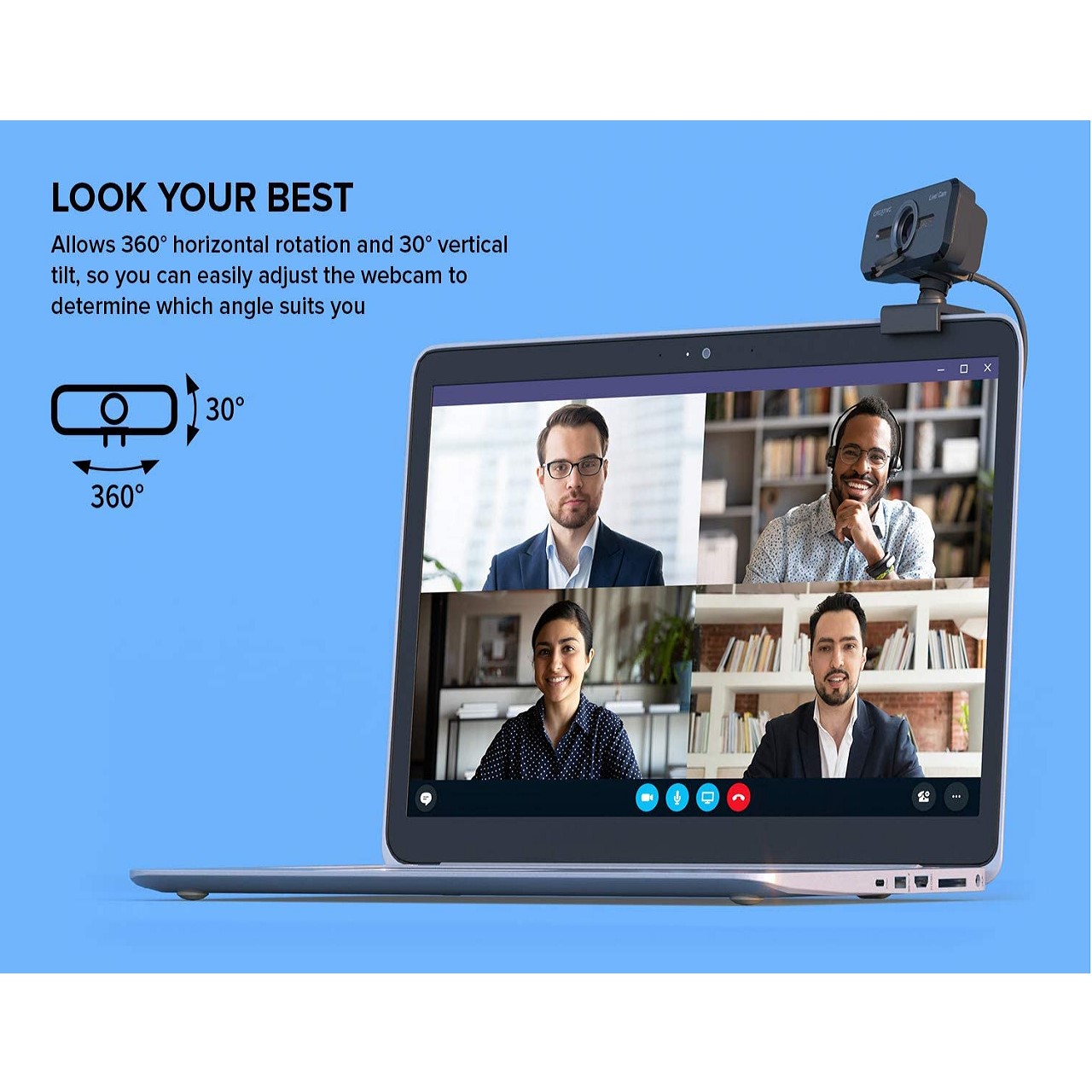 Creative Live! Cam Sync 1080p V2 Full HD Wide Angle USB Webcam with Automatic Mute and Noise Cancelling, Built-in Dual Microphone for Zoom, Skype
Simplify The Way You Video Call
Improved Dual Built-In Microphones For Natural Voice Pick Up
Full HD Wide-Angle Video And Look Good In Any Angle
UVC Compliant, Easy Setup With Longer Cable
Privacy-Protection Lens Cap 
Description
Additional information
Brand
Reviews (1)
Description
Creative LIVE! 1080P V2 WEBCAM

Full HD Webcam with Auto Mute and Noise Cancellation for Video Calls
Make a strong impression during an important web conference, and connect with your loved ones more intimately with full HD video and improved call quality! The Creative Live! Cam Sync 1080p V2 has been further enhanced with improved built-in microphones for better pick up and more natural sounding audio, and features our latest audio innovation—the SmartComms Kit, a suite of smart communication features designed to simplify the way you take your online calls—so you can communicate smarter with less fuss.
Be ready in an instance for your video calls, online lessons, or web interviews (even the last-minute ones)! The Creative Live! Cam Sync 1080p V2 is UVC compliant and works with most of the popular video conferencing applications—just plug it in and put your best self forward.
EASY TO SETUP
Simply plug it into any available USB-A port on your PC or Mac, and start your video call immediately! It also works with popular video conferencing applications, like Zoom, Skype, Microsoft Teams, Cisco WebEx, Google Meet, Facebook Messenger, and more.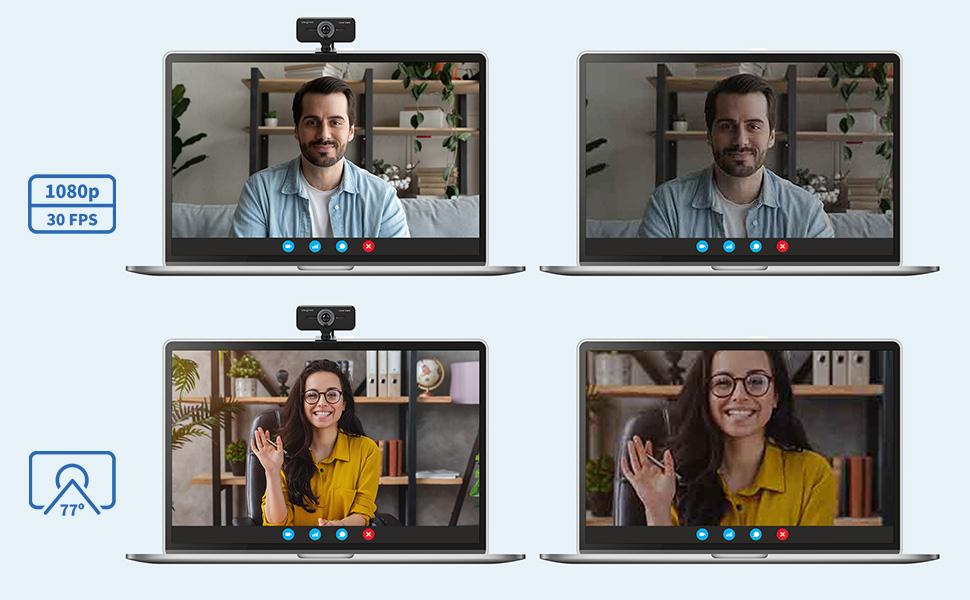 SPEAK FREELY WITH AUTO MUTE
It can be embarrassing when you get caught off guard while switching between screens and struggling to unmute yourself when it's your turn to speak during a Zoom meeting. Especially during video calls where everyone's looking at each other within close proximity, even the slightest movement and facial expression are magnified to everyone in the call.
To relieve yourself from these uncomfortable moments or free up your hands while conducting an online lesson to your students, we designed the VoiceDetect feature.
Our VoiceDetect feature controls your mute status by voice detection as you speak—the webcam's microphone gets muted automatically after you stopped speaking, and unmutes you instantly as you start to talk. There is absolutely no need to fiddle with any buttons whether physical or in-app, so you look professional and well prepared throughout the entire meeting, and keeps you focused on your train of thought.
BE HEARD CLEARLY WITH NOISE CANCELLATION
Why do they always start vacuuming the floor or mowing their lawn when you are just about to start presenting during a video conference? While you cannot control your neighbor's antics, you certainly can get rid of the embarrassing background noises with NoiseClean-out. NoiseClean-out* detects the static noises from your outgoing audio, and suppresses them while retaining your vocals and spoken dialogs, to let your co-workers hear you clearly.
*The NoiseClean-out feature work best for static background noises such as fans, air conditioning, air purifier, humidifiers, vacuum cleaners, hair dryers, electric shavers, and even lawn mowers.
FULL HD AND WIDE VIEWING ANGLE
Creative Live! Cam Sync 1080p V2 delivers full HD videos at 1080p / 30 FPS rate and 77° field of view, providing better image quality and a balanced frame that allow for more engaging conversations.

IMPROVED BUILT-IN MICROPHONES
Your voice will be accurately picked up over other noises and it will also sound more natural during a video call, almost as if you are conversing face-to-face.
Sensor

2.0 megapixel HD (1920 x 1080)
HD Video Support

Full HD 1080p
Microphone

Dual
Software

Microsoft® Windows® 10 (Creative app)
Max. Frame Rate (USB 2.0)

1080p @ 30fps
Highest Video Resolution

2.0 megapixel HD (1920 x 1080)
SYSTEM REQUIREMENTS
Webcam:
Compatible with operating system that are UVC compliant
Windows
Intel® Core™ or AMD® Ryzen equivalent processor
Intel, AMD, or 100% compatible motherboard
Microsoft® Windows 11, Windows 10 32 / 64-bit
4 GB RAM
>600 MB of free hard disk space
Available USB 2.0 / USB 3.0 port
Available USB-A port
Mac
Mac running macOS 10.14 or higher
4 GB RAM
>600 MB of free hard disk space
Available USB 2.0 / USB 3.0 port
Available USB-A port
Chrome OS
Chrome OS version 56 and above (2017 onwards)
2 GB RAM
Available USB 2.0 / USB 3.0 port
Available USB-A port
Xbox One X/S
Firmware Ver 10 or newer
Available USB port: Requires an available USB-A port
Downloadable Software (Creative app)
VoiceDetect and NoiseClean-out are part of the SmartComms Kit's suite of smart communication features and are accessible via the Creative app for Microsoft® Windows 10 32 / 64-bit (Version 1703) and above.
PACKAGE CONTENTS
1 x Creative Live! Cam Sync 1080p V2
1 x SmartComms Leaflet
1 x Quick Start Guide
WARRANTY
1-year Limited Hardware Warranty
Additional information
| | |
| --- | --- |
| Weight | 0.2 kg |
| Dimensions | 12 × 10 × 7 cm |
| HSN | 85258090 |